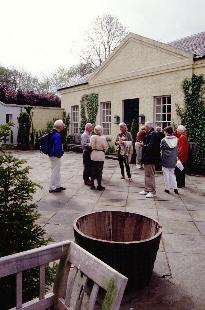 Butterstream is the ambitious work of a single person, Jim Reynolds, a delightful gardener who is so entertaining he could easily be a professional commedian. His lovely garden, Butterstream, is the hard work of this one gentleman in a little over 20 years, and is situated along a gently flowing stream near the town of Trim in County Meath, Ireland. Yes, the garden is beautiful, earning the prestigious "two star" rating from the Good Gardens Guide in the UK, but the real experience is just wandering the property with Mr. Reynolds, just listening to him talk about his labor of love.

Started in the early 1970's, Jim Reynolds has has amassed a collection of choice perennials and shrubs, arranging them in both formal and informal settings. He has gradually added a series of garden rooms in his landscape, each with its own theme and focal points. In his White Garden, he has built a tower so that he could look down on on the formal gardens below. Only a few years old, the tower looked as though it had been there for centuries and the entire scene seemed reminiscent of the White Garden and Tower at Sissinghurst Gardens in England. Walking from the Pool Garden, we strolled past the Obelisk Garden, then through the Laburnum Tunnel, and eventually opening onto the lawn and summer house. My eye was immediately caught by the brilliant yellow foliage of an expanding maple. Surely this was the butter at Butterstream.

Jim Reynolds is in the process of restoring the summer house that is situated beyond an impressive beech hedge and gate. As we discussed the artifacts and restoration plans, Jim confided remarked that the Duke of Wellington originally owned this property. In his delightful Irish accent and delivery of polished comedian, he confided, "They bankrupt themselves in the early 1900's...", and after a strategic pause he added, "...gardening." Laughing, we all knew the reality of that comment.

Another story that delighted us was Jim Reynold's recollection of a visit by noted plantsman Graham Stuart Thomas and garden writer, Rosemary Verey. As they toured Butterstream, Rosemary Verey commented, "Have you ever seen such caterpiller damage? Oh, the weeds... they're huge, and the vine wevils must be enormous!" At that point, Mr. Thomas calmly turned to his companion and said, "Rosemary, my dear... Hasn't anyone told you that the gentry always look up to see the good things in life? Only the commoners look down, and see the weeds." As a final note his story, Mr. Reynolds advised, "Real gardens do not have to be pristine and perfect. Why, if I looked at myself in the mirror too carefully in the morning... I'd go back to bed!"

I am sorry that I don't have streaming audio and video so you can appreciate the wit and wisdom of Jim Reynolds narrating a tour of his lovely garden. However, here are a few images of the garden and flowers at Butterstream.