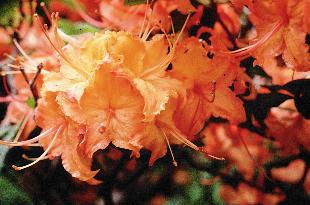 Rhododendron calendulaceum, also known as the Flame Azalea, is surely one of the most spectacular native shrubs of the Appalachian Mountains. The flowers are larger than most of the natives, measuring from 1.5 to 2.5 inches across, and come in a wide range of colors from clear yellow, through shades of orange, to brilliant red.

First collected by A. Michaux in 1795 from the Blue Ridge Mountains of North Carolina, this species has a wide range of distribution from southern New York, Pennsylvania and Ohio as a northern limit, southward through the Appalacian mountains to northern Georgia. In late May and June, entire hillsides can be washed with brilliant color as these magnificent azaleas come into bloom.

R. calendulaceum is difficult to propagate by cuttings, but is easily raised from seed. Please leave the plants in the wild for others to enjoy, and purchase blooming-sized seedlings from specialty nurseries for garden use since young plants establish easlily in the garden. R. calendulaceum is a naturally occuring tetraploid, having twice the number of chromosomes in comparison to the other native species. Because of this fact, it does not hybridize easily with most of the other natives and even if a first generation cross is made, the resulting hybrids are often sterile.