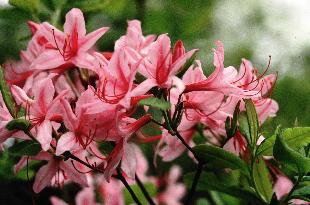 Rhododendron prinophyllum (synonymous with R. roseum can be found from southwestern Quebec, through New England and northern Ohio, to Appalacian Mountains at the higher elevations. The flowers are typically rose pink measuring 1.2 to 1.8 inches across and are very fragrant.

Assumed to be a form of R. periclymenoides (R. nudiflorum) since its first mention in 1787, it was first described as a distinct species in 1914 by Small but had been under cultivation as A. rosea in Europe before 1812. R. prinophyllum can be distinguised from periclymenoides by a number of characteristics including the fact that it is ususally deeper pink in color and with a strong cinnamon to clove fragrance. Also, the blossom it is more funnel shaped with comparatively short flower tube, and the pedicels (flower stalks) are longer than the other species.

R. prinophyllum is a wonderful landscape plant for north eastern gardens, but may be more difficult in the south because of summer heat.